Apprentice engineers abroad – Charlotte's testimony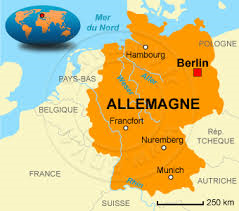 Charlotte CHAMARD is a Structures and Composites design engineer apprentice from AREVA. She went to Germany in the Erlangen AREVA's site nearby Nuremberg.
Charlotte CHAMARD, apprentie Ingénieur Structures et Composites chez AREVA, partie en Allemagne sur le site AREVA à Erlangen près de Nuremberg.
How did you find your work placement?

We are used to working with this unit, on different projects, and they are used to welcome students. As such, my company mentor introduced me to the manager over there.
Comment avez-vous trouvé votre entreprise d'accueil ?
C'est un site avec lequel nous avons l'habitude de travailler sur différentes études, et qui accueille régulièrement des stagiaires. Aussi mon Maître d'Apprentissage m'a mis en contact avec le responsable sur place.
So was it an internal operation?

No. Initially the internship was not linked to my industrial project with AREVA France. But as I had a chance to study their calculation methods, I had the possibility to compare their methods to ours. This analyse allowed me to get a better understanding of my project, and made me approach it in a different way.
C'était donc une mission interne ?
Non. À la base les missions définies pour ce stage n'étaient pas en lien avec le Projet Industriel que je mène dans le cadre de mon contrat d'apprentissage. Mais comme j'ai pu analyser leurs méthodes de calculs, la comparaison des outils m'a permis de mieux comprendre et d'éclairer différemment mon propre projet.
What was the most surprising thing working in Germany?

Obviously, each country has its own work ethics and the daily activities and work environment can vary deeply. I expected work in Germany to be very serious, with a continuous focus on the tasks while working in a rigorous atmosphere. It might have been because it was summer time, but I was happily surprised to join a very relaxed team instead, where everybody was still working in a very professional way.
Qu'est-ce qui vous a le plus surpris au travail ?
À l'évidence chaque pays a ses méthodes de travail et les différences sur le rythme ou l'ambiance de travail sont marquées. J'avais une image du travailleur allemand très sérieux, centré toute la journée sur ses missions, travaillant dans une ambiance stricte. Et c'est peut-être dû à la période estivale, mais contrairement à ce que je pensais, l'ambiance était décontractée et on prenait le temps de bien faire les choses.
What about socialising? I assume that you don't speak German, so how did you interact with others?

Right. I really don't speak German at all, fortunately most of my colleagues were English speakers. In the house that I was sharing, English was also the "official language". I also had the opportunity to interact with other trainees from other French engineering institutes, which was great. As far as the daily organisation was concerned, I was very lucky as everything was made quite easy. But if my company had not helped me find a work placement, things could have been much more complicated.
Et la vie sociale ? Vous ne parlez pas allemand, comment avez-vous échangé avec les autres personnes ?
À la base je ne parle pas du tout allemand, heureusement la plupart des collègues parlaient anglais. Notamment dans la colocation où j'étais, l'anglais était la « langue officielle ». Et puis, il y avait aussi d'autres stagiaires venant d'autres écoles d'Ingénieur françaises, c'était très enrichissant. Pour toute l'organisation de la vie quotidienne, j'ai eu de la chance ça a été facile. Mais sans l'aide de mon entreprise pour trouver le stage ça aurait pu être beaucoup plus compliqué.
And what about your return back to France?

Even though I don't want to live abroad permanently, I could definitely renew that experience (6 or 8 weeks would be perfect).
Et maintenant, comment envisagez-vous la suite ?
Sans avoir envie de m'expatrier définitivement, je suis tentée de refaire le même genre d'expérience pour 6 ou 8 semaines c'est très bien.
Do you have any advice for those who have to do a work placement abroad?

I had no financial support. We have to apply for scholarship as soon as possible and meet strict criteria. Fortunately, I had some savings and I could finance everything!
Un conseil pour ceux qui doivent partir ?
Je n'ai pas eu d'aide financière. Il faut faire les dossiers de demande de bourse en amont et remplir certaines conditions assez strictes. Heureusement que j'avais de l'argent de côté ça m'a permis de tout financer.